Alfons and Helmut Klaas have a proven track record in international one loft racing. They win at least one race every year and this year is no different. With only six pigeons sent to the race, Alfons Klaas managed to win the final race of this year's Derby Carpat as well as the 1st and 4th ace bird.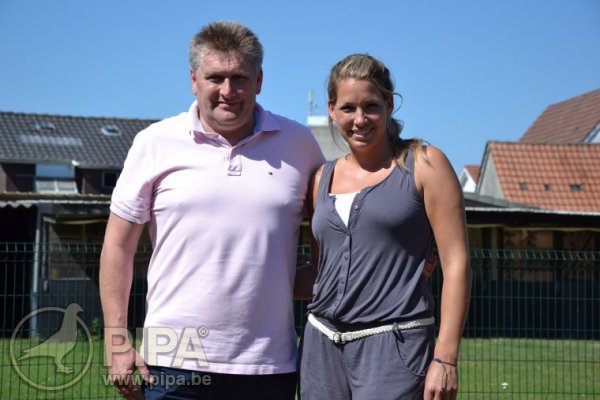 Fruitful year
2018 has been an excellent year so far for Alfons Klaas and his father Helmut. Before August 2018 they had already won:
1st Ace Bird Grand Averages Victoria Falls WCPR
3rd Ace Bird Hot Spot Averages Million Dollar Race
5th Hot Spot Car Race 4 Victoria Falls WCPR
5th Hot Spot Car Race 3 Million Dollar Race
Other colleagues performed outstandingly as well with Klaas birds, winning 1st Great American Classic One Loft Race and 5th Hot Spot Car Race 5 Million Dollar Race. On 26 August, Alfons was able to add yet another one loft race victory and two one loft race ace birds to his extensive list of honours:
1st Derby Carpat (420 km)
1st Ace Bird Derby Carpat
4th Ace Bird Derby Carpat
A sensational accomplishment since Alfons only sent in six pigeons for this race held in Pavlivka, Ukraine.

Top 10 in the final race

Top 10 in the ace bird standings
Two nest-mates win 1st final and 1st and 4th ace bird
Alfons' splendid performance is highly remarkable since it were two nest-sisters which brought him glory in this race:
DV0507-18-283 Milla: 1st Ace Bird Derby Carpat and 1st Derby Carpat final of 420 km against about 1,000 birds
DV0507-18-284 Mrs. Kunis: 4th Ace Bird Derby Carpat and 5th in the semi-final

Milla, 1st Derby Carpat final race and 1st Ace Bird
They both originate from Alfons' old strain, represented by two of Alfons' stock birds: ace racer and breeder Mr. Bolt and 1st Million Dollar Race 2007 winner Konstantin.
Sire: DV0507-16-720 Kleiner Bolt (half-brother Mr. Bolt)
Mr. Bolt was 1st Regional Ace Bird 2009 from 35,196 birds of 838 fanciers and his offspring has already bred many OLR prize winners and ace birds such as Bamberg (1st Ace Bird Hot Spot Averages Million Dollar Race 2015) and Bamberg I (3rd Ace Bird Grand Averages Million Dollar Race 2018).
Kleiner Bolt also descends from the Konstantin bloodline: his sire Pantani 14 is both a grandchild of Konstantin and a great-grandchild to Konstantin's half-brother, which bred Naomie. Furthermore, Pantani 14's sire is a full brother of Victor, 1st Million Dollar Race 2011 for Klaas/Kitchenbrand Lofts. More recently, the ancestry of the 1st Great American Classic One Loft Race2018 winner and the 1st and 8th Ace Bird Grand Averages Vic Falls WCPR 2018 can be traced back to Konstantin.
Dam: DV01984-12-86 Lena
Lena is a chequered Höischen-Gaukstern hen and daughter of DV0940-07-188, triple first-prize winner including 1st against 16,677 birds. Lena's half-sister 323, daughter of DV0940-07-188, was 1st Regional Ace Hen 2012 and 19th National.
Here you can check out the full parentage of Milla and Mrs. Kunis.
Key to success
In the past years, father Helmut and son Alfons have been able to rely on stock birds of which the offspring performs at the highest level, both in racing and breeding. A superb strain which has dominated this year's one loft racing with wins and ace birds in the Victoria Falls WCPR, Million Dollar Race and now Derby Carpat as well. And most of all one-off family of birds which will lengthen the superiority of the Klaas birds in one loft racing for years to come, whether it be for Alfons himself or for his competitors.