It all began on a beautiful spring day in sunny Italy, in the tandem lofts of Italian pigeon fanciers Ermes Trenti, Nicolas Damiani, Rocco Toscani and Silvio dall'Armellina. No one knew how that soul that was struggling so clumsily but determined at the same time to face life beyond the known world inside the egg, would become one of the most famous pigeons in the world.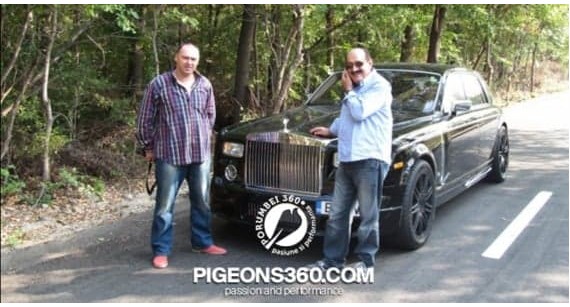 Well, that is how it all began. Things have evolved for the better as he has dealt with the world around him, a world that as he grew older. He met his parents, made new friends with whom he began to furrow the sky and its surroundings. They started training around the loft where they enjoyed each flap of their wings, feeling as if what were to come. After the trainings around the loft, the ones with common launches from certain distances started. Everything went well, the pleasure of flying was bigger and bigger and with it the pleasure of stepping on the first in the loft.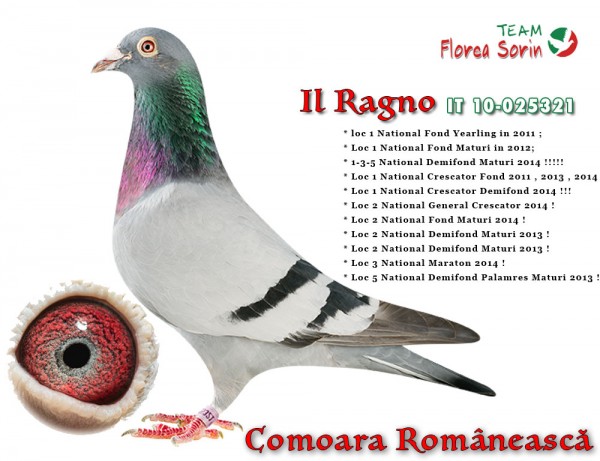 In 2011, the competitions started! The competitions in Italy are tough, Italy not being an easy place for the pigeon races, having the sea on the left side, the sea on the right side and the mountain in the middle. Temperature and humidity, quite important factors in the toughness of a competition, are always kept at a high level, making only the strongest pigeons last until the end of the season, season with speeds between 1000 and 1200 m / m, even at stages with short distance races.
A name that has earned its place in eternity. Il Ragno (The Spider)!
Thus, the 25321-2010 series of numbers of the pigeon that was part of the flying team of the Stella Rossa Team would receive a name, due to its character and performances, Il Ragno – translated: THE SPIDER. A single pigeon finish from about 200 meters high and collapsed towards the entrance in this specific way and this was Il Ragno.
Il Ragno, a pigeon with an extraordinary recovery capacity, which during his entire career did not miss any stage. He managed to classify all the 11 stages in which he participated. Although his flying career was short, he continued to establish himself in the world of pigeon fanciers in the world and in the breeding compartment, passing on to his products the characters that characterize the Derauw Sablon line, whose blood he carried in his veins, namely the desire and stubbornness of get home, regardless of flight conditions.
11 stages flown, 11 stages classified, with distances from 133 km, up to 800 km.
In 26.03.2011, stage Rimini, 133 km, place 8/165 pigeons.
In 02.04.2011, stage Falconara, 223 km, place 20/490 pigeons.
In 09.04.2011, stage P. Recanati, 251 km, place 104/538 pigeons.
In 23.04.2011, stage Ortona, 374 km, place 324/2536 pigeons.
In 30.04.2011, stage Vasto. 403 km, place 167/1355 pigeons.
In 08.05.2011, stage Carapelle, 526 km, place 4 zonal, 25 prov/1099 pigeons.
In 15.05.2011, stage cerignola, 542 km, place 4 zonal, 33 prov/821 pigeons, 54 inter/2456 pigeons.
In 22.05.2011, stage Senigallia, 206 km, place 6/159 pigeons.
In 29.05.2011, stage Molfetta, 595 km:
1113 m/m, 28 and humidity 77%.
Place 1 zonal;
Place 1 provincial;
Place 1 inter/3372 pigeons.
In 11.06.2011, stage Brindisi, 730 km:
1039 m/m, 26 grades and humidity 94%.
Place 1 zonal;
Place 2 provincial;
Place 4 inter/3402 pigeons.
In 25.06.2011, stage de Otranto, 792 km:
1043 m/m, 29 grades and humidity 83%.
Place 1 zonal;
Place 1 provincial;
Place 1 inter/1718 pigeons.
In 09.07.2011, stage de Lecce, 760 km:
1039 m/m, 26 grades and humidity 94%.
Place 1 zonal;
Place 3 provincial;
Place 4 inter/2048 pigeons.
In the competition year 2011 he participated in all stages of the flight plan, ranking them all, with distances from 133 km to 800 km.
"Only those who risk going too far can find out how far they can go." – T.S. Eliot
In the days when he was in shape, he dominated the roof of the loft, like a true leader! He did the same before the 760 km stage, in Lecce. This led him to be basketed on the race, even though he was already National Champion in category C and E. The night before the competition the tandem Stella Rossa could not sleep, thinking about what they did. The day of the race arrived, and emotions began to increase as the hours passed and the time of arrival approached. It was a hot day, with 35 degrees Celsius and a humidity of 77%. Almost 12 hours after launch, the inevitable happened. In his characteristic way, he closed his wings and began a mad dive towards the loft. He entered the loft with speed and went straight to his box, where he started an unprecedented show, touring no less than about 2 minutes, showing the world that he was capable of more than that. What is incredible is that after flying the first stage in 9 hours, the second stage in 11.5 hours, the third stage in 12.5 hours, in difficult conditions, he manages to fly again for 12 hours, in extreme conditions, without any the smallest problem.
He flew these 3 difficult stages in the background, in an interval of only 4 weeks, during these four weeks he flew over 2200 km.
With these remarkable results, Il Ragno becomes the standard of the loft, occupying the 1st place As Fond Italia 2011, this being so far the best cross-country pigeon that has ever flown in Italy and one of the best pigeons with blood De Rauw-Sablon who were ever born, with the lowest penalty coefficient according to FCI rules, a result that has not yet been shot down to this day. It has the best coefficient in history, detachedly beating pigeons with heavy names in pigeon fanciers, such as Armando, Mr. Fantastic, etc.
– best national loft in 2014;
– place 1 National Fond Yearling in 2011 ;
– Place 1 National Fond Maturi in 2012;
– Place 1-3-5 National Demifond Maturi 2014 !!!!!
– Place 1 National Crescator Fond 2011 , 2013 , 2014 !!!
– Place 1 National Crescator Demifond 2014 !!!
– Place 2 National General Crescator 2014 !
– Place 2 National Fond Maturi 2014 !
– Place 2 National Demifond Maturi 2013 !
– Place 2 National Demifond Maturi 2013 !
– Place 3 National Maraton 2014 !
– Place 5 National Demifond Palamres Maturi 2013 !
Questions such as flying at 2 years old, like flying at 3 years old could not find the answer, because after the competition season in 2011, the flying career ended, in 2012, Eros Carboni convinces those from the Stella Rossa team to sell the miracle male, Il Ragno. After 3 years of breeding in Eros Carboni's loft, in 2015 through a joint partnership with Team Florea Sorin, Il Ragno is transferred in Romania, where he receives the pseudonym Comoara Romaneasca, as Mr. Florea Sorin liked to caress him.
Il Ragno – The Romanian Treasure becomes the top breeder of the Team Florea Sorin loft.
Here, in the lofts of Team Florea Sorin, he clearly makes his mark as a good breeder. In a short time, he becomes the grandfather of the places: 17-28-49-95 out of 2,453 in the Million Dollar Race final!!!!!
Top performance from a top pigeon! A steel and iron athlete… conceived from Marcel Aelbrecht's golden genetic line crossed with 'Vital' (national Ace bird by Noël Lippens) and 'Didi' (national Ace bird by Etienne Devos).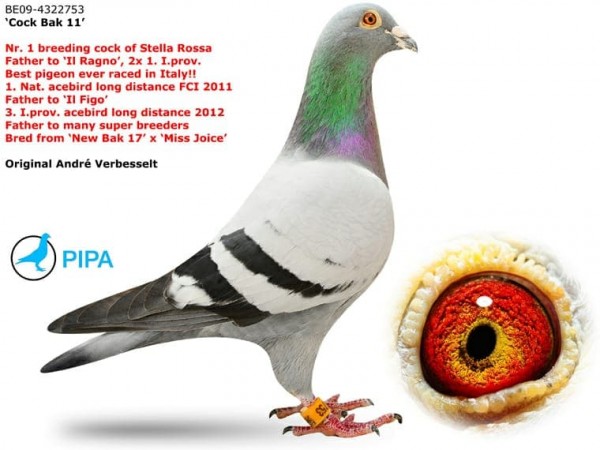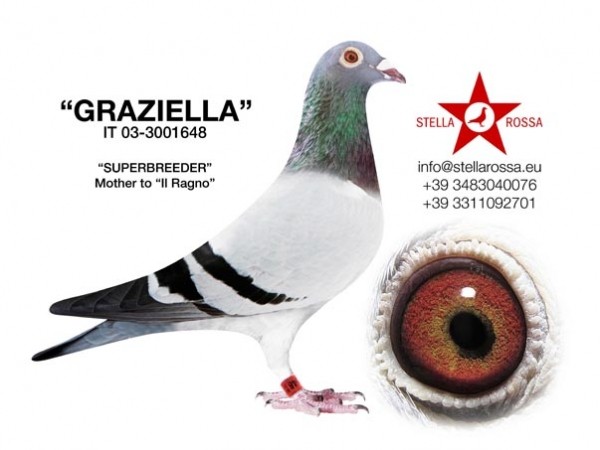 In his pedigree we see that his father is a direct pigeon from Andre Verbesselt, directly 'Son Miss Joice' B09-4322753 (from 'Son Bak 17' B07-4373754 x 'Miss Joice' B05-4130439… or the genetic line of gold M.Aelbrecht-blood) x 'Graziella' B03-3001648, female from Etienne Devos (and niece from 'Vital' Noël Lippens x gold genetic line 'Didi-line'). "Good blood" never goes wrong!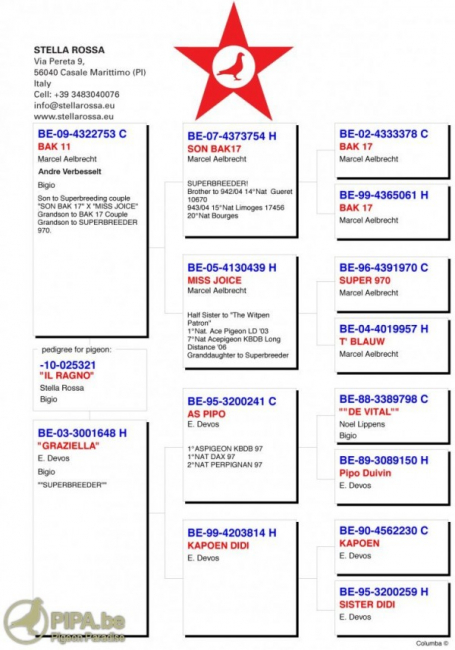 As nothing is eternal in this world, in the darkest year of recent human history, the Covid year, 2020, this star of the world pigeon fancier world dies. The Spider, in the lofts of Team Florea Sorin. But more than 25 of his sons and daughters remained here. Also, Il Ragno's father is still alive. However, he remains an undisputed champion, undefeated so far at the FCI coefficient at this moment, on the PIPA website there is an ongoing auction of Team Florea Sorin where we can find sons / daughters from Il Ragno and where, for a fair price, those who wish can buy genetic material of indisputable value!