Youngsters and grandchildren of New Harry and Harry Junior show their breeding potential again in 2018, both in their home loft and in other lofts.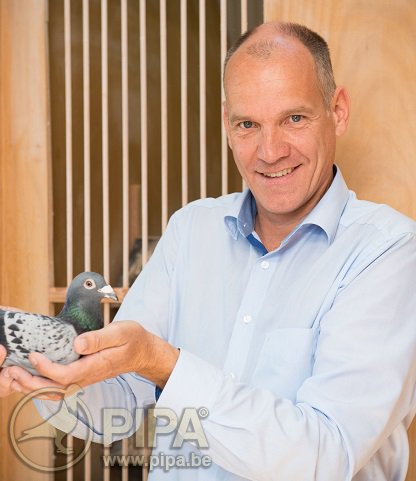 Jan Hooymans and New Harry
Mixed feelings
Jan Hooymans will not be forgetting the 2018 season any time soon. He lost his world famous Harry in August, which was a major loss in terms of quality. But anyone who knows Jan Hooymans, will not be surprised to hear that his breeding team was well prepared for this. In other words, he did have some very talented newcomers that were eagerly awaiting their chance to step up. We would like to talk you through two pigeons that are about to follow in the footsteps of their sire or grandfather Harry.

NL14-1219811 New Harry, the sire of a 1st National Nanteuil sector 3 of 14,422 p.
New Harry
NL14-1219811 New Harry is a son of top pair NL12-1784621 Beauty Harry x NL10-1881869 Stareye. It makes New Harry a brother of Max, 1st National Ace Pigeon middle distance YBs PIPA Ranking 2015. New Harry has had quite a racing career, winning a 1st Niergnies 14,737 p., a 1st Pt. St. Maxence 12,94 p. and a 1st Melun 1046 p. He was then transferred to the breeding lofts in Kerkdriel, and his youngsters and grandchildren are now winning one top result after another; how about we take a look at his references in 2018.

NL18-5002214 Jane, granddaughter of New Harry. Jane wins a 1st National Nanteuil sector 3 of 14,422 p.