Without even knowing, Joost basketed a group of infected pigeons for the 2017 race from Barcelona. This, combined with the demanding and unpredictable weather, caused him to lose quite a few experienced racing birds that day. He was out for revenge: he claimed a 1st Int. Barcelona Hens (2nd Int.) and 5 national top 25 prizes, with the help of top breeder Joost.
1st International Barcelona Hens (2nd Int. 15,707 p.)
The star of the show on 7th of July was the blue coloured hen BE16-4139838 Floorke, named after his daughter Floor. "Our vet Pascal Lanneau was on a visit just then, so I did not see our winner arrive home", Joost says. But his wife Elsie was on the outlook, and she saw a pigeon approach the loft. This bird did come from the right direction, as opposed to the two pigeons that had arrived home shortly before her; they turned out to be on their way from Limoges. Joost: "We were euphoric almost right away, because we knew we would be finishing close behind the first French fanciers if we clocked our first pigeon at 11 o'clock." Floorke arrived home at 10 o'clock, and she still looked fairly fresh, according to eye witnesses. "She is the fittest of the team by far, judging from how they look after the race", Joost explains. She was able to claim a 1st International Barcelona Hens and a 2nd International of 15,707 pigeons.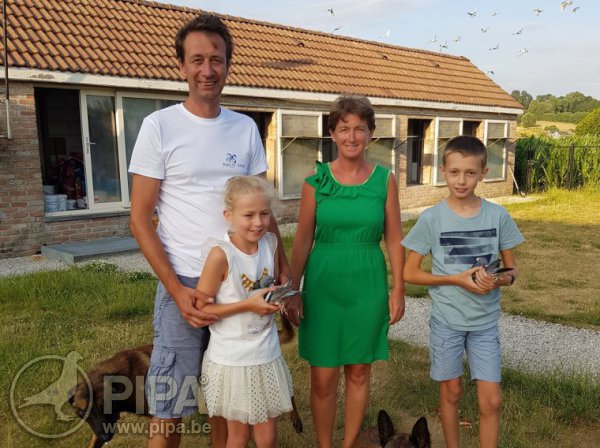 Cas with Cas (1st International Pau) and Floor with Floorke (1st International Barcelona Hens)
Floorke's pedigree has nothing but top quality bloodlines, including first of all top breeder Joost, 1st Int. Perpignan Yearlings 2013, which Floorke's dam Wonder Lady is heavily inbred to. She comes from a son of Joost (Persup, the sire of a 6th Int. St. Vincent – 2nd Int. Hens) x full sister Joost (the 640, the dam of a 3rd Int. Bordeaux and the grandmother of the 1st Best Belgian pigeon from Bordeaux 2011-2013). Joost is the sire of a 1st Int. Pau 2015 (Cas) and a 1st Nat. Ace Pigeon KBDB Extreme Long Distance 2013 (Elsie). Floorke's sire is a son of Grand Cru, 1st Int. Bordeaux Yearlings 1006. Top breeder Grand Cru is the sire of a 2nd Ace Pigeon Europe Cup 2011 and the grandfather of Joost (1st Int. Perpignan), as well as the 2nd Nat. Ace Pigeon Extreme Long Distance KBDB 2015 (Laval). He was paired to breeding hen Chanel (Casaert-Sénéchal), which comes from Nasdaq (1st Nat. Souilac) x Blue Beauty (the dam of a 1st Nat. Brive). Click here for the full pedigree.
Taking revenge with a 5 x top 25 national
This year's international classic from Barcelona was a race for the really strong, taking place in the burning sun, in scorching heat, and with a north to north-easterly headwind. "Tough but fair weather, the perfect conditions for my pigeons", Joost explains. " I have won four international first prizes in my career, and all four were won with a speed of less than 1,000 m/min, by pigeons with great potential." The international victory from Barcelona with the hens can be considered a difficult race as welll, and we were particularly impressived with the team's overall performance:
Club 138 p.: 1-2-3-4-5-6-7-9-10-11-13-14-… (25/46, 12 per 10)
Provincial 1,484 p.: 2-4-5-8-9-14-26-35-42-43-54-58-59-81-83-95-117-130-142-147-… 
                      (25/46, 5x top 10, 16x top 100 and 20 per 10)
National  7,429 p.: 2-9-12-21-22-50-88-126-152-155-226-256-258-336-343-399-512-582-666-692-… 
                     (25/46, 4x top 25 and 20 per 10)
"I had basketed 46 hens, divided over two teams. One team had the hens paired to each other, the second team was raced from the nest. We had 35 birds that had a youngster of 3 to 6 days old, and one that was lagging behind, having brooded for 10 to 14 days. The pigeons have never done more than the middle distance. A group of 10 widower hens was basketed as well; they had completed Bourges and Valence but this was their very first race from Barcelona", says Joost. And yet he was able to claim a 2nd, 9th, 12th, 21st and 22nd National.
But what does this result mean to Joost? "Like a sweet revenge for 2017, when I basketed my pigeons without knowing they had gotten an infection. Everyone was talking about a tough but fair race, but I was not convinced, since the race saw a mix of sun, heavy rain rain, and thunderstorms." Joost lost several of his proven racing birds of 3 to 5 years old in 2017, so he did not have too many expectations for this year's race: "I had created a new team of pigeons to try and get to the highest level as quickly as possible, but I had never expected this young and inexperienced team to get such great results already. I am particularly proud that three of my five first nominated were among my first four finishers." Here is a closer look at the best pigeons from Barcelona, all finishing in the national top 25 and coming from the line of top breeder Joost:
Joost: "Like I said: these are racing birds with great potential. But it takes some proper caretaking to get you there. I use a diet of Versele-Lage, the I.C. Black Label system to be more specific (with black corn). I also use supplements of Belgavet, which I helped develop. Hugo Batenburg is using those same products. In addition, my pigeons always get Belgavet's Total Recovery when they get home. I also use Wonder Pigeon regularly throughout the season, which I am getting great result with."
Read more on PIPA.BE by clicking here