Rockefeller put the icing on the cake after another brilliant season for Marc De Cock, winning perhaps the most difficult ace pigeon competition in Belgium: 1st National Ace Pigeon All-Round KBDB 2018. A new star was born in 2018, and he is quite a talented bird!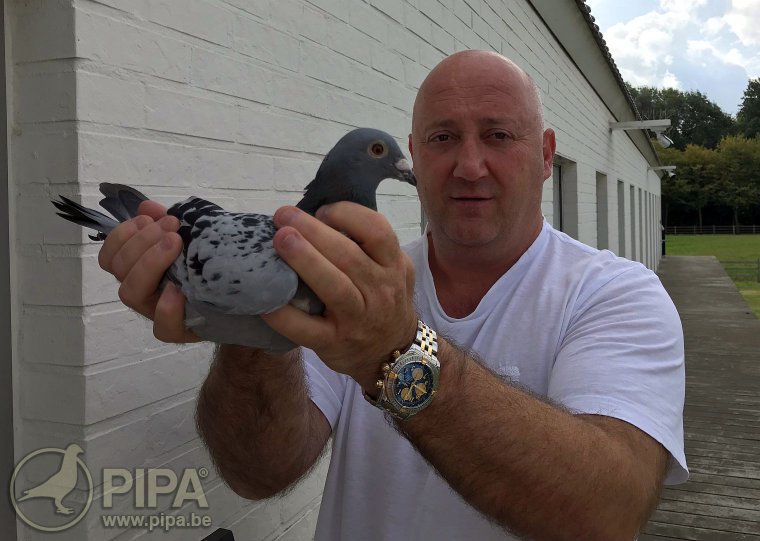 Rockefeller, BE17-4094340, 1st National Ace Pigeon All-round KBDB 2018
Rockefeller claims the title of 1st National Ace Pigeon Allround KBDB 2018 with an extensive lead on the silver and bronze medal winner. He has a 6.66% coefficient, which is more than 50% lower compared to the second pigeon in the race (14.52%).
The results that were taken into account for this title speak for themselves:
2 prizes national longer middle distance:
Bourges (26/05): 61st National Zone B1 of 6,920 pigeons
Chateauroux (09/06): 67th Provincial of 5,209 pigeons
2 prizes national long distance:
Brive (23/06): 4th National Zone B1 of 1,187 pigeons
Limoges (07/07): 28th National Zone B1 of 2,510 pigeons
1 prize extreme long distance (international races):
Narbonne (27/07): 92nd National of 3,017 pigeons
These are fantastic results indeed. Keep in mind there were just three pigeons that were able to win the five prizes required for this championship in this demanding season. It goes to show how hard this championship really is. We are genuinely impressed with the achievements of Rockefeller, and his remarkably low coefficient in particular.
Rockefeller does originate from some race winning bloodlines: the sire of Rockefeller is a full brother of Super Ace, 6th National Ace Pigeon Long Distance KBDB 2014. Rockefeller's sire is also the sire of a 1st Provincial Chateauroux (3,206 young birds), 111th National Libourne, 154th National Brive, etc. The sire of Rockefeller (and of Super Ace) is a youngster of world class pair Super Etienne (a direct Etienne Meirlaen from Deurle, and inbred to Lange Marseille) x Princess. Super Etienne is a half brother of Monar, 1st International Narbonne 2009, as well as the grandfather of Cornee, 8th National Ace Pigeon Extreme Long Distance KBDB 2016. Princess is the dam of a 1st National Zone B Tulle.

The sire of 2 top birds: Rockefeller & Miss Chateauroux
Like we said, a half sister of Rockefeller won a 1st Provincial Chateauroux of 3,206 young birds just a few weeks ago. Click here to reread our article.
The dam of Rockefeller is a daughter of Gazpacho (N&F Norman, Knokke-Heist, BE). Gazpacho was an Olympic winner in the category Marathon in Budapest 2015. He also became 4th Provincial Ace Pigeon with a 57th National Souillac (5,282 pigeons) and an 84th National Libourne (6,658 pigeons). The grandmother of Rockefeller from his mother's side is in fact a daughter of Abraham (another F&N Norman). Abraham is a full brother of Florian, the sire and grandfather of 2 Olympiad Pigeons and a 4th, 5th and 12th National Ace Pigeon Long Distance KBDB, as well as the sire of the 2008 One Million Dollar Race winner in South Africa.

The dam of Rockefeller, a daughter of Olympiad Pigeon Gazpacho (Budapest 2015)
Rockefeller does have a fantastic pedigree indeed; click here for the full version.
The story behind Rockefeller
Marc De Cock quickly understood that Rockefeller was promising to be a highly successful bird. We let Marc tell the story:
"Rockefeller had caught my attention as a young bird, and I don't just stay that because he has just won a top result. In fact, he was trained fairly late in the season as a young bird, mainly to gain some experience for 2018. It was during one of these races that I saw him land on the board of our racing lofts. I could tell from his peculiar way of entering the loft that this would be a highly talented pigeon. It was perhaps just gut feel but my intuition rarely lets me down. And the results show.
He was raced in classic widowhood this season, and I honestly had never expected this pigeon to be making history in this loft! But as the racing season went on, I was really starting to think that this pigeon could do something truly exceptional one day. And the more top prizes he won, the more convinced I was of this pigeon's abilities. That is why I decided to basket him for perhaps the most challenging championship title: National Ace Pigeon All-Round KBDB.
With so many top results to his name, Rockefeller now had a busier schedule than ever: after an already arduous racing season in high temperatures, this racing bird had to deliver once again: we basketed him for the international race from Narbonne. I was quietly hoping for another top result, and I was quite nervous about basketing this bird for his final race. Our champion had a difficult day, given the weather conditions (with thunderstorms) and very high temperatures. But in the end he did really well, taking home the title of 1st National Ace Pigeon All-Round KBDB 2018! I was in fact quite lucky, since the pigeon arrived home with a fairly serious back injury, and with some primaries missing. He is now well recovered but it was a close call. It was thanks to his courage and determination that Rockefeller did make it back home, claiming that highly coveted title.
I would like to point out that Rockefeller became a national ace pigeon with an exceptionally low coefficient, and I reckon this will continue to be a very low coefficient for many years to come, given that the previous ace pigeon's coefficient was more than 3.5 times higher."
We could not have told it better than Marc De Cock himself, arguably one of the most successful pigeon fanciers of his generation. The sky is the limit for this fancier. Meanwhile it was announced that Marc has also become 2nd General National Champion KBDB 2018. Add to that his two provincial first prizes of last summer, and you can consider this to be a fantastic racing season indeed!