Inimitable – that's the best way to define the performances of Team Sangers this year. Comparisons with Formula 1 come to mind immediately. No matter how hard the competitors try and no matter how big their reputation is – in the end the racing stable with the best equipment wins.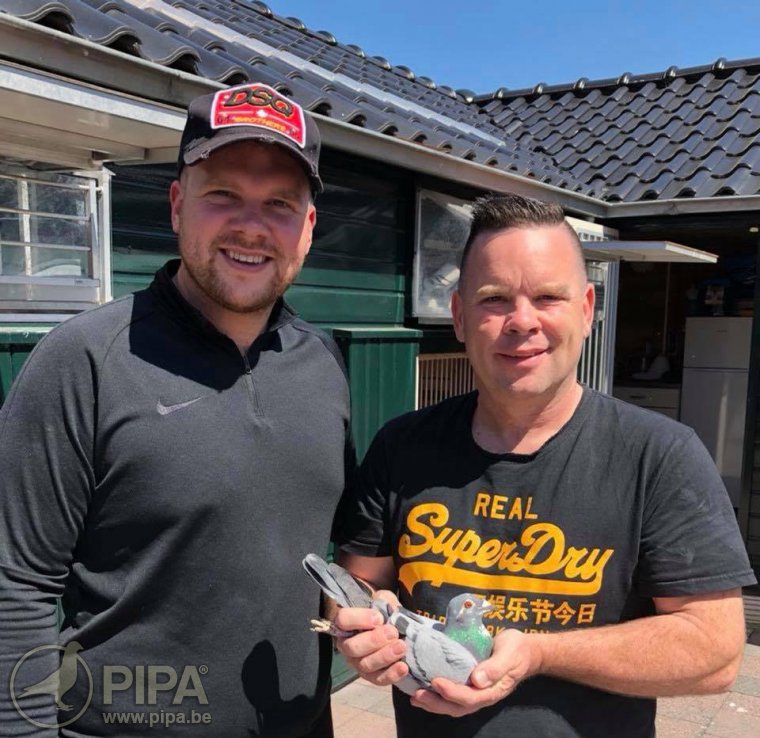 When we take a loot at the championship ranking after the old birds season, Team Sangers can barely keep the smile of their faces. There was nothing to do about Brian Sangers, Chantal Vredeveld and "manager" Marcel Sangers in 2018. There were a lot of – superior- victories and the impressive series of first prizes turned out to be unbeatable. Toppers in Kring De Ijssel – among them even National esteemed lofts – were left scratching their heads:
1st champion not nominated Kring -500 km (13 races)
1st champion not nominated middle distance Kring (7 races)
1st champion not nominated speed Kring (6 races)
1st champion nominated Kring -500 km
1st champion nominated middle distance Kring
1st-2nd-3rd-4th-6th-7th ace pigeon speed Kring -500 km
1e-2e-3e-5e-7e-8e-9e ace pigeon speed Kring
1e-2e-5e ace pigeon middle distance Kring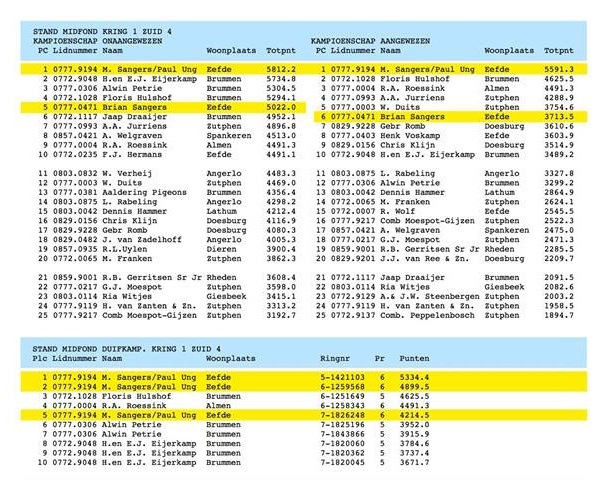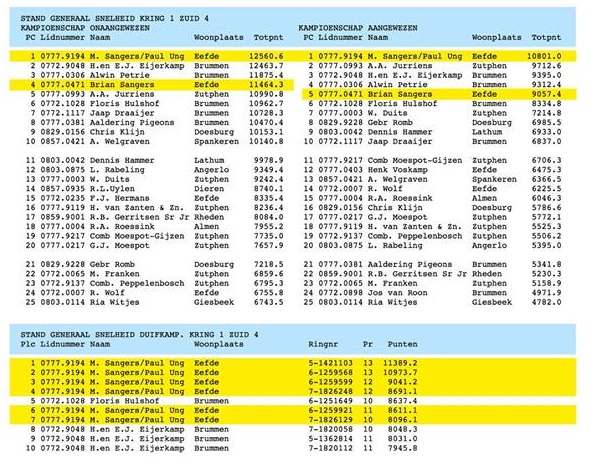 1st champion not nominated One Day Long Distance Noordelijke Unie
Right before the season of 2018 Paul Ung passed away. He was a good pigeon friend of Marcel who originates from the Philippines and had has share in Team Sangers for over 15 years, although in the background. The already monthly lasting victory march forms a suiting salute to Paul. Besides Sanger-Ung, in the Kerklaan in Eefde there's also some pigeon racing done by Brian Sangers – Marcels son – which enthusiasm for pigeon racing has only increased the last few years. In 2018 he now races with his own team of cocks and hens on total widowhood and that immediately led to a thrilling success! In the Noordelijke Unie (department 7 until 11) Brian became 1st semi-National champion not nominated One Day Long Distance on flights Chateaudun (572 km), Bourges (627 km) and Chateauroux (678 km)! Especially nice since Brian first basketted two times 8 and one time 7 pigeons against a lot of respectable names who put a multitude of pigeons on these sectoral races…with the small basket to a great performance thus; it's still possible!
Most important in winning the title is the NL14-1662622 Andara. In 2018 this blue hen made a mark on the NPO concourses with a.o.:
27nd NPO Chateaudun 4.997 p. 572 km
44nd NPO Chateauroux 3.891 p. 678 km
62nd NPO Bourges 2.642 p. 627 km
128nd NPO Pithiviers 6.699 p. 527 km
Andara also already won 2n Niergnies 7.100 p. second to a loft companion and 5th Geel 6.739 p. after 4 loft companions…she origins of different Sangers pigeons.
Sire: Octava, half-brother of Fast Red (1st-7th-7th-23rd NPO), Red Fox (1st Duffel 9.173 p.) and Alydar (top breeder) … he is a son of Fast As Lightning 1st Heverlee 9.076 p. with 5th and 8th NPO paired with Anica, 1st Boxtel 7.743 p. and 1st Geel 471 p.
Dam: Presilla, marvelous hen from Pigem (2nd Nat. Chantilly 16.500 p.) x his daughter Amber, 1ste prov. Young ace pigeon NPO flights 36.981 p.